As part of the stadium complex's ongoing refurbishment, a statue of the aviator Roland Garros was erected in the presence of Gilles Moretton, the president of the French Tennis Federation (FFT), and Caroline Brisset, the artist who created the sculpture.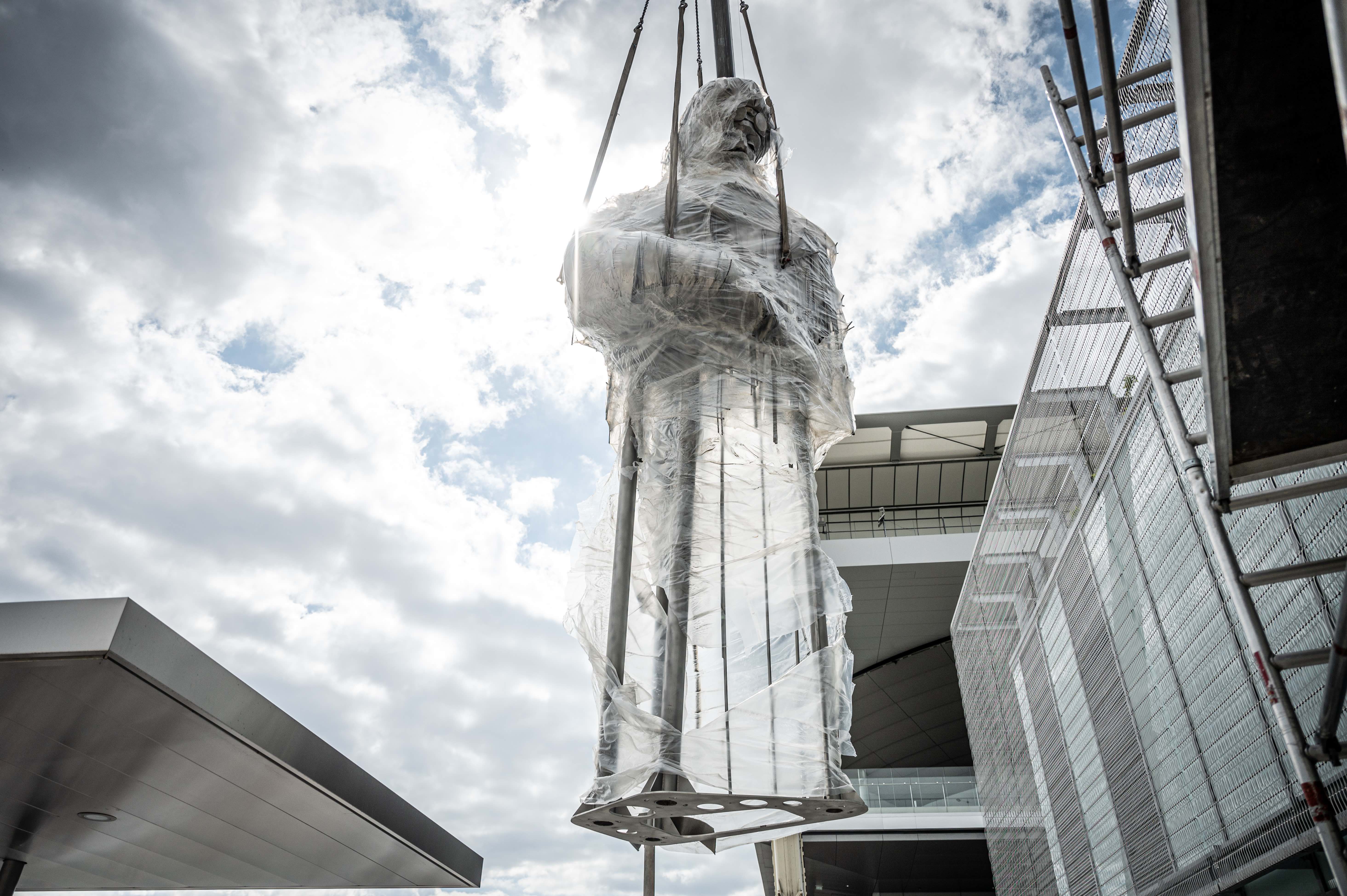 The statue has been erected by the FFT in tribute to the French aviation pioneer and First World War hero, who gave his name to the stadium complex. Made of steel measuring over six metres high, it takes its inspiration from a photograph of Roland Garros leaning on his elbows in the cockpit of a plane. It is entitled The Cloud Kisser, the nickname given to Roland Garros on account of his daring exploits, which included him becoming the first man to fly across the Mediterranean.
The statue will stand on the newly created Aviator Square at Gate 1, the new public entrance to the Stade Roland-Garros.
Born in 1988, Caroline Brisset is a French artist and sculptor who uses metal in all its forms in her sculptures. You already know her as we promote and exhibit her art since 5 years now. Close to the artist, Catherine Meulemans has been lucky to see the work in progress in her atelier at Marseille "Generik Vapeur". She was filled with emotion during the interview of Caroline, as she felt that this very humble artist realised the scope of her performance and its worldwide visibility.
During this interview, Caroline Brisset explained that "The airman Roland Garros is a major inspiration for me because he had an air of calm about him but was a dreamer too, which is why I feel close to him. In his own little way, he was lost in the clouds, and there's a poetry in that. I tried to get as close to him as I could to make my representation of him as sincere as possible. It's one of the toughest challenges I've ever had. The project really resonated with me because my grandfather was an airman too and flew in the same squadron as Roland Garros: "L'Escadrille des Cigognes". I put a lot of heart into this project because of that."
FFT President Gilles Moretton said: "We are very proud to be here today to welcome this wonderful statue, created by Caroline Brisset, a very talented artist with a gift for touching people. This sculpture is a fine tribute to Roland Garros and is richly deserved, given his status as an aviation pioneer and First World War hero. It will
enable us to offer a lasting salute to an extraordinary man who gave his name to both our tournament and our stadium."
Do you remember who was Roland Garros?
At age 11, he left home all by himself to study in Paris. Far away from the family home, he quickly became independent and forged a strong temperament. A graduate of the HEC and an accomplished sportsman, he discovered the world of aviation aged 21 and quickly became obsessed with these machines. Soon after, he piloted his first flights and enjoyed success after success. His first remarkable achievement was crossing the Mediterranean on board a Morane-Saulnier in 1913. Taking off from Saint- Raphaël, he landed in Tunis after an epic 7 hours and 47 minutes in the air.
This exploit earned him a fantastic reputation. When the First World War broke out in 1914, he was considered the best pilot in the world. He decided to sign up for the duration of the conflict.
An exceptional visionary, he was convinced that aviation would play a major role in the military. He was involved in the development of a brand-new weapon: a firing system positioned between the blades of a plane's propeller. Roland Garros thus became the first ever fighter pilot.
A prisoner of war, he managed, after several attempts and three years of captivity, to escape from a camp in Germany. But his experience did not stop him from returning to the front. On 5th October 1918, the eve of his 30th birthday, his plane was shot down in the Ardennes.
Do you know why was the stadium named after Roland Garros in 1928?
There is no doubt about the importance of Les Mousquetaires' legacy. In addition to their six Davis Cup victories (from 1927 to 1932), Jacques Brugnon, Jean Borotra, Henri Cochet and René Lacoste were also behind the creation of Roland Garros stadium, thanks to their first win in Philadelphia in 1927. To play host to the United States in the 1928 Davis Cup final, France needed a court worthy of this prestigious competition. The tennis stadium was built on a three-hectare plot of land in the Porte d'Auteuil, which was donated by the Stade Français. The president of this legendary club, Émile Lesieur, had just one request: that the stadium should be named after his friend and former member of the club, whom he had first met in the lecture rooms of the HEC, a certain Roland Garros.
April 17, 2021